---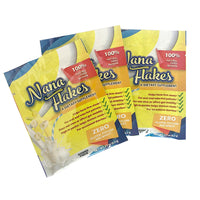 Nana Flakes® are made from 100% dried bananas and is a great source of potassium, vitamins and minerals. Nana Flakes are a great, all-natural remedy for heartburn relief, stimulating appetite, and can help to ease upset stomach and diarrhea. Nana Flakes can be mixed into smoothies and used as an egg substitute in foods. 1/4 cup of Nana Flakes equals one whole banana! Safe for Diabetics, Renal Patients and for tube-fed patients. Gluten, Lactose, Soy and Psyllium Free. Kosher Parve.
Pricing
1 Case (30 Packets) = $19.90
2 Cases (60 Packets) = $37.90
3 Cases (90 Packets) = $53.90

Pricing Includes shipping and handling


Nutrition Information
Serving Size: 6.2 grams (1 Packet)
Servings per packet: 1
Calories: 21.5
Calories from fat: 0
Total Carbohydrate: 5.5g
Sugar: 3g
Fiber: 6g
Sodium: trace
Potassium: 95mgs
Phosphorous: 5mg
Additional Information
100% All Natural Dried Banana Flakes
Psyllium Free, Gluten/Wheat Free, No Added Sugar
No Artificial colors, flavors, additives or preservatives
For occasional diarrhea
Great for smoothies and shakes
Use in baking and cooking as an egg or fat replacer
2 heaping Tbsp of Nana Flakes® is equal to one medium banana
Store in a cool dry place. Shelf stable for 24 months, No refrigeration needed.