---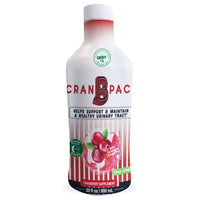 Cran-B-PAC® is a urinary health supplement that can help prevent urinary tract infections and overuse of antibiotics with five, all-natural, active ingredients. Provides 24-hour protection.
Our liquid urinary health supplement helps to cleanse, maintain, and protect your urinary tract from infections. Our product is the only formulation that contains 36mg proanthocyanidins*(PAC) per BL-DMAC standard method. PAC* or Proanthocyanidins is a natural chemical compound found in whole cranberries which can help reduce the adhesion of bad bacteria found in the urethra and urinary tract wall. According to the NCBI Study, men and women who took 36mG of PAC had less bad bacteria in the urine compared to the other group who took only 18 mg. In addition, we added Vitamin C, a prebiotic, and D-Mannose & Erythritol to help create beneficial bacteria and reduce the number of harmful bacteria which can be caused by high pH levels. Not a Substitute for antibiotics/analgesics. Gluten, lactose, & soy-free. Non-GMO.
Made with 100% All-Natural Cranberries
Vitamin C increases urine acidity creating a less favorable environment for bacteria.
Prebiotic Inulin (fiber) helps to create beneficial bacteria
D-Mannose & Erythritol helps to displace bacteria from the bladder.
Directions: Take 2 tablespoons a day, 1-2 times a day.
With Antibiotics: 2 tablespoons (1-2 times a day)
Catheter users: 2 tablespoons (2 times daily)
*Please note, having a UTI and an overactive bladder may show similar symptoms. Consult with your primary physician first before taking any supplements.
Store at room temperature. Discard after 60 days after opening. Do not use if the seal is broken. Shelf life is 2 years.
Proprietary Blend of:
Erythritol
Cranberry (Vaccinium macrocarpon) Juice Concentrate
Ascorbic Acid
Inulin HD (Jerusalem artichoke tuber)
D-Mannose
Other ingredients:
Deionized Water
Glycerine
Xylitol
Natural & Artificial Cherry & Mango Flavors
Potassium Sorbate (preservative)
Sucralose
Beet Juice Powder
Red #40.
Typical serving of CRAN-B-PAC® contains the following: Potassium & Phosphorous.